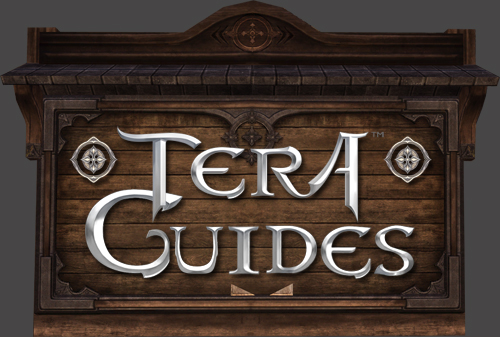 Welcome to the Tera Guides Wiki
Welcome to the Tera Guides Wiki! TERA is an online MMO and trademark of Bluehole Studio Inc. This wiki will feature guides that I have created, based on quests, crafting, game play, and other game-related content found within the online world of TERA.
Please bear with me as I get this wiki up and running and become familiar with it.  Content will be added on a casual basis. This is essentially a fansite.
!! IMPORTANT NOTICE !! Any crafting guides on this wikia are out of date as of today (29 OCT 2014) I took an extended break from Tera and in that time, they re-vamped the entire crafting system. Disregard crafting guides until I am able to update them. At this time I do not know if my World Boss Location Guides are still accurate or not. I do know that my gathering location maps for plants, essence and ore are still valid. I will be working on updating the guides on this wikia over the next few weeks.
Currently Available Guides
DISCLAIMER
I do not claim credit for or rights to any TERA content that is featured on this Wiki.  I take credit only for compiling existing TERA data into useful guides.  This includes but is not limited to, screen captures, written text from within the game of TERA, and my own personal opinions.  All images featuring TERA content have been manipulated in Photoshop, derived from screencaptures taken in the world of TERA.
Any additional guide-related data that may be featured on this site, but not compiled by myself, will be displayed only after permission has been granted, and full credit will be given to original authors, with links leading back to the original location of the data.
Many of the graphics used for this wiki are available in the official TERA fansite kit.  I have used photoshop to manipulate some of these images to suit the needs of this wiki. 
The TERA-style font used on images was created by "Leanne"
The following can be found at the bottom of the official TERA Website:
COPYRIGHT © 2013 BLUEHOLE STUDIO INC. ALL RIGHTS RESERVED. YOUR USE OF THIS PRODUCT IS SUBJECT TO THE TERMS OF THE LICENSE AGREEMENT AVAILABLE ON OUR WEBSITE AT TERA.ENMASSE.COM. TERA™, "TERA: RISING" AND "TERA: THE EXILED REALM OF ARBOREA" ARE TRADEMARKS OF BLUEHOLE STUDIO INC. ALL OTHER TRADEMARKS ARE THE PROPERTY OF THEIR RESPECTIVE OWNERS.